Hi Nesters!
If you read my recent blog post "
Easy Chicken Enchiladas Verde
," you know that I perused my friend Lyndsey's blog
The Tiny Skillet
for inspiration in my meal planning for the week. I didn't have to cook dinner last night because I met a friend for dinner at Daily Grill. Turns out, Jason fed the kids pancakes for dinner so they were pretty happy.
Drawing inspiration from Lyndsey's
Spinach and Feta Stuffed Chicken Breast
, tonight I made feta and basil stuffed chicken breasts wrapped in bacon.
Here's a photo of the finished product to whet your appetite.
Here's my recipe:
6 chicken breast halves

6 slices of bacon

3/4 cup reduced fat feta cheese

1/4 cup chopped basil

seasoning (I used Montreal Chicken seasoning)
Preheat oven to 350 degrees. Lightly grease a 9x13 baking dish.
Chop basil and set aside.
Pretty organic basil from my garden.
One at a time, place chicken breast halves in between two pieces of plastic wrap. Using the flat side of a meat tenderizing mallet, pound the chicken into submission (or to 1/4" thickness).
Lay the chicken breast out flat and fill with feta and basil. Roll up chicken breast. Wrap one whole slice of bacon around each breast and secure with toothpicks.
Place the bacon-wrapped chicken breast into the baking dish and sprinkle with seasoning.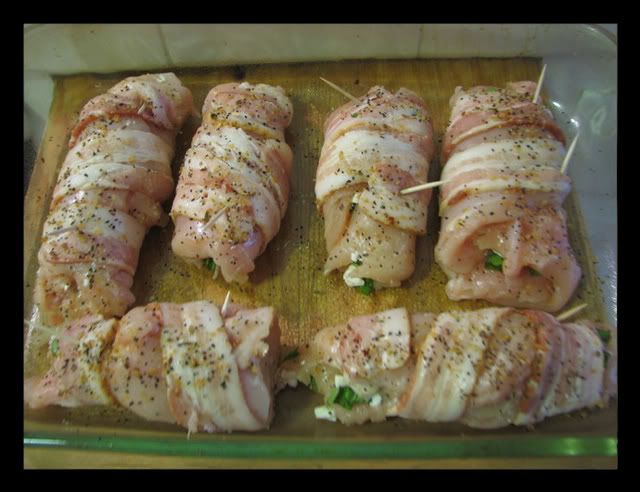 Bake for 15 minutes at 350 degrees. Then turn your oven to broil and cook a few minutes more till bacon gets crispy.
I served it with a salad of mixed greens, candied pecans , dried cranberries and bleu cheese crumbles. The family loved it and decided it's a keeper--yay!
Thanks for stopping by!
Robyn