Hi Nesters!
I received some samples I ordered the other day from Meow. I'll try to get them all swatched this weekend but in the meantime, here's the first look I did using one of the samples.
Featured color in this look:
Tomcat
- The Meow site describes this color as medium sage green with gold shimmer. From my viewpoint, I see a medium bright green base with a pearly sage green overtone. I also see a pinkish sometimes baby blue shimmer (depending on the light) with light blue sparkles. It's quite lovely.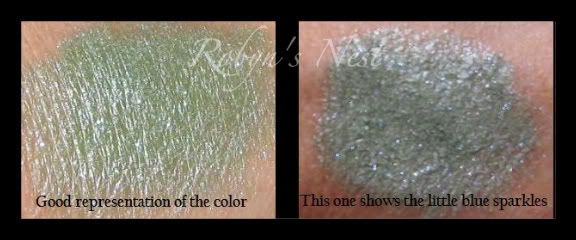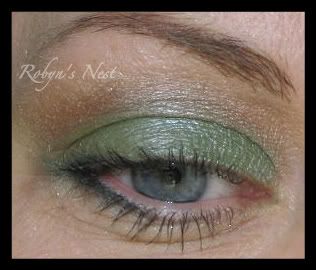 Other products used in this look:
Live Unscripted (disc'd TSS) in the crease
Meow's Crystalline Cat Glow Powder in Opal to highlight and patted over Tomcat to tone down the color.
Endangered (forest green) gel liner underneath lashes
I have to admit, I think Tomcat looks better swatched on the back of my hand than it does on my eyelids. I find that's true with lots of eye shadow colors though. You can turn your hand every which way in the light to see all of the subtle nuances of the eye shadow. But if I were to do that while wearing the eye shadow on my lids, people might think I was a crazy woman. All in all, I think it was a pretty look but just a little bright for me to wear out in public. More daring girls will love this color.