Hi Nesters!
To avoid running back and forth to the grocery store all week or worse, standing in front of my open fridge at 5:00 p.m. wondering what I'm going to make for dinner, I try to plan 4 or 5 dinner menus at a time and then do the shopping for all of them in one trip. I'm in an experimental mood this week and wanted to try some recipes I've never made before (hoping to add a few new dishes to my cooking repertoire). So earlier today, I flew over to my friend Lyndsey's blog
The Tiny Skillet
for inspiration. Her
Chicken Enchiladas
immediately caught my eye so I decided that would be for dinner tonight. I changed a few things around to suit my taste and cooking style but basically it's the same idea. The family (which includes a 6 y/o son and very picky 13 y/o daughter) loved it! Here is my recipe:
Easy Chicken Enchiladas Verde
10 corn tortillas
1 28-oz. can green enchilada sauce*
1 lb. white meat chicken* (I used chicken tenders because they were considerably less expensive than breasts)
salt/pepper/garlic powder
1 1/2 cups shredded Monterey jack cheese
2 cups shredded Mexican blend shredded cheese
vegetable oil
*

You can use leftover chicken and make homemade green sauce if you like. But I didn't have any leftover chicken and I wanted to use canned sauce so it would be fast and easy.
Preheat oven to 350 degrees. Thoroughly coat a 9x13 glass baking dish with non-stick spray (makes cleanup super easy).
Place uncooked white meat chicken in a stock pot. Fill pot with water just enough to cover chicken. Sprinkle salt, pepper and garlic salt over the chicken. This seasons the chicken so it doesn't taste bland inside the enchiladas. Boil over high heat until the chicken is cooked all the way through and shreds easily with a fork.
While chicken is cooking, heat some vegetable oil (about 1/2" deep) in a skillet over medium high heat. One at a time, dip the corn tortillas in the hot oil for approximately 20 seconds. This is just enough time to soften the tortillas for rolling, but not enough to make it crispy. Set the tortillas to drain on a plate lined with paper towels (layer towels in between tortillas.
Remove cooked chicken from water and shred. I use two forks to shred chicken but you can use your fingers if you like.
Assembly: Pour enough green enchilada sauce in the baking dish to cover the bottom. One at a time, put shredded chicken down the center of each tortilla. Top with Monterey jack cheese. Roll up and place seam side down into the baking dish. After all filled tortillas are in the baking dish, pour the remaining green enchilada sauce over the top of all the enchiladas. Top with the 2 cups Mexican blend cheese.
Bake in preheated oven for 20-25 minutes. Serve with sour cream.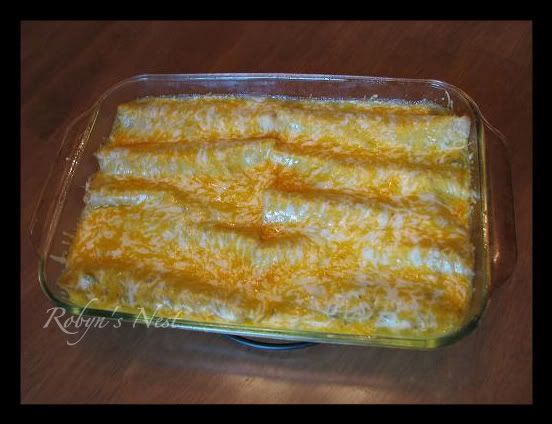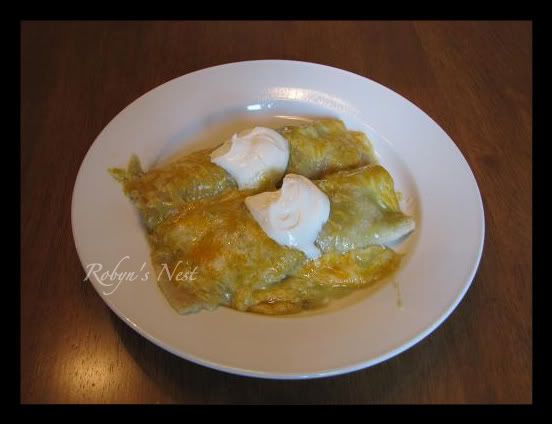 Don't forget to check back to see what I make next!
Robyn