I didn't need someone to challenge me to come up with a list of things I want to do around the house this coming year (there's always
something
that needs to be done), but The Nester (thenester.com) happened to post such a challenge on her blog recently so I thought it was a good excuse to actually get all of it written down. That
is
the first step to getting things done after all. . .make a list. I won't promise myself that
all
of the projects listed here will get done. But I'm optimistic and hopeful that I'll get through quite a lot of them.
So here's my list (in no particular order) of things I hope to accomplish myself (or with minimal help from my husband) around the house in the year 2011.
Repaint the media room. (aka Daddy's room)
Repaint the foyer. The aforementioned 5 rooms/areas are all currently painted the same color ("Warm Oats" by Easy Living). It's not that I don't like the current color, but after a few years of hanging/rehanging photos and artwork in different places, and just general wear and tear, it's time for for new paint. I'm not sure if I'll repaint the same color or go for something different. If I decide on a different color, I'm still leaning toward a similar beige tone but perhaps with a little less yellow in it. Maybe more in the taupe family. We'll see.
Repaint son's bedroom. It's currently a pale blue ("Igloo" by Dutch Boy) and we're planning on removing all of his sports wallpaper stick-ons and painting it either a soft beige or a mid-tone denim blue (picking up one of the colors in his quilt).



(Sorry for the bad pics. Not a bit of sunshine to be had this week.)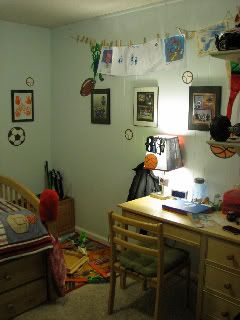 Repaint all doors, door jams and baseboards. In a perfect world, I would like to actually replace all of the doors but that's not in the budget right now.
Install new cabinet/drawer fronts and hardware in the kitchen and breakfast room. I got an estimate on what it would cost to have all new cabinets installed (not even changing the floor plan at all) and it was a little over $6k for just 18 linear feet of upper and lower cabinets. That doesn't even include the bank of cabinets I have along with breakfast room wall. I decided that I can live without new cabinets but will just purchase stock cabinet/drawer fronts, paint them myself and install new hardware. When we purchased our home, the cabinets were the original mid-tone brown varnish with antique gold knobs. I primed and painted the cabinets white and added chrome/porcelain hardware (30 cabinets/drawers in all).
Paint oven door, paint cook top and replace hood vent. Since our house was built in 1966, they don't make replacement wall ovens and cook tops in the size I need. I would have to make modifications to the existing counters and cabinetry and that's something I really don't want to deal with. Although our oven, cook top and hood vent are original, they are in great working condition and very clean. They are also very brown. So I think a fresh coat of "appliance white" paint will freshen them up nicely.
Install new flooring in main bathroom. When we moved in, the main bathroom was decorated in 1980's peach and gray, including coordinating peel & stick tiles. So in an effort to provide a quick inexpensive fix, I ripped out the old tiles and installed new "not quite so hideous" faux marble peel & stick tiles. After all these years they are still in good condition, but vinyl tiles don't really appeal to my design aesthetic so it's time for a new floor. I'm not sure what kind of floor I want to install but it needs to be DIY friendly. I'm thinking about doing a self-leveling concrete floor and then staining it. If you've tried this technique before, please post a comment here and give me some pointers.
Touch-up paint on exterior of house. Our house is part stucco and part wood. The wood part is up near the eaves and has weathered some over the last couple of years since it was last painted by a professional. That person didn't use a primer and it shows. Once the weather warms up in the spring, this is the first job I want to tackle (or have hubby tackle).
Replace or paint existing flush-mount lights in kitchen. When we moved in, the kitchen had the original builder's grade light fixtures from the 60's. I replaced them with generic white frosted flush-mount fixtures. Nothing fancy because I didn't want them to stand out. But I think now I'm ready to show a little more personality. If I don't find anything affordable that really jumps out at me, I'll just repaint the white trim on the existing fixtures with a dark bronze paint.
Well, that's it for now. I'm sure I can come up with several other things that need to be done but they'll have to wait for next year's list.
If you would like to see what the rest of the rooms look like, go
here
to view all of my blog posts that include photos of our home.