Hi Nesters!
Monday was my 44th birthday and Jason (who just turned 39 this year) took me out for dinner to one of my favorite restaurants, Campagnia. Although she begged us repeatedly (kids are relentless) to take them with us, Sierra stayed home and watched her little brother Cameron so Jason and I could have a much needed date night. The night couldn't have gone better.
In a previous post in which I used Meow's Tarnished as an accent, I mentioned that it would probably be a great stand-alone smokey eye color. Well, it is! It's the perfect marriage of brown and charcoal with just the right amount of shimmer. I'm definitely getting a full size of this. I also used a little bit pale yellow matte eyeshadow to soften and brighten the edges. By the looks of these photos, I was a little heavy-handed with the yellow matte eyeshadow. But in the dimly lit restaurant, I don't think it looked quite as stark as it does here indoors at night with flash.
In this look I also used Meow's Delicious Despair (from the Shattered Equinox collection) blush on my cheeks. I was surprised at how much I like this color. I've worn it every day for the past three days. All of the blushes in this collection are far more shimmery than I usually like; however, the color is so pretty and it has such depth that I can't resist it. I apply it over my mineral foundation with a duo fiber brush and then buff down the shimmer a bit with a little more foundation. To complete the look, I used black gel liner, mascara, and a nude pink gloss.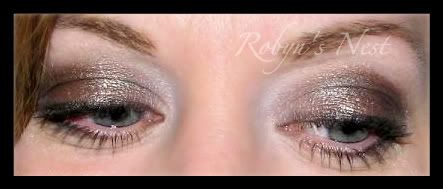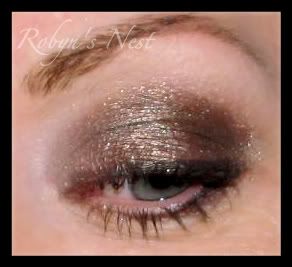 I'm totally not drunk in this photo (just excited to be going out sans children).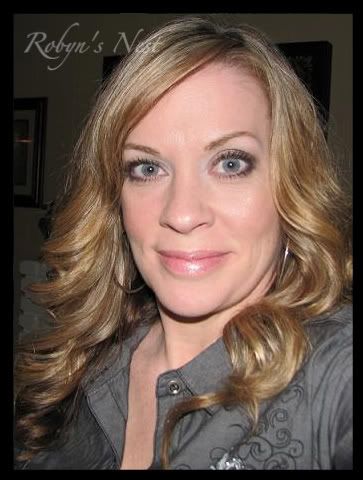 ♥ ♥ ♥ ♥ ♥ ♥ ♥ ♥ ♥ ♥ ♥ ♥ ♥ ♥ ♥ ♥ ♥ ♥ ♥ ♥ ♥ ♥ ♥ ♥ ♥ ♥ ♥ ♥ ♥ ♥ ♥ ♥ ♥ ♥ ♥ ♥ ♥ ♥ ♥ ♥ ♥ ♥ ♥