Hi Nesters!
Today's look features Fiddlesticks with an accent of Melancholy Maiden from one of Aromaleigh's final collections, Wonderstruck (based on Tim Burton's Alice in Wonderland). These ended up being two of my favorite colors from this collection and I will be purchasing full sizes of them in the near future. If you're a fan of light shimmery highlight eyeshadows, Melancholy Maiden is a must-have for your collection. The color, texture and sparkles are a-ma-zing!
Click here to see Kristen's (owner/artisan of Aromaleigh) hand swatches of these colors.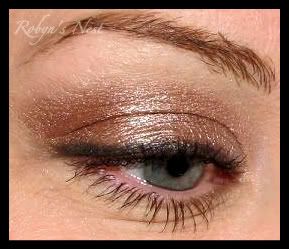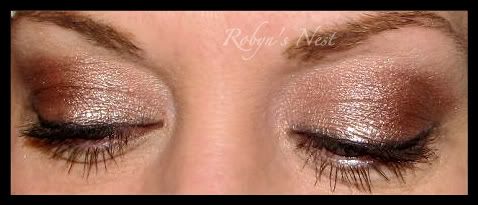 Fiddlesticks (outer 3/4 lid/crease) - Midtone warm shimmery copper (but not orangey) with blue and pink sparkles.
Melancholy Maiden (inner 1/4 lid) - Nude/fawn/buff shimmer with multi-colored (aurora borealis?) sparkles.
Black cake eyeliner (upper lash line)
*Color descriptions are based on my own personal observations and are not provided by Aromaleigh.

♥ ♥ ♥ ♥ ♥ ♥ ♥ ♥ ♥ ♥ ♥ ♥ ♥ ♥ ♥ ♥ ♥ ♥ ♥ ♥ ♥ ♥ ♥ ♥ ♥ ♥ ♥ ♥ ♥ ♥ ♥ ♥ ♥ ♥ ♥ ♥ ♥ ♥ ♥ ♥ ♥ ♥ ♥