Hi Nesters!
I'm on day two of testing out my new Meow Simple and Guilty Pleasures eye shadow samples. In yesterday's look, I used Fried Chicken, Chocolate Truffle and Bubble Bath.
Here's what I used for today's look...

Color Descriptions:

Making Love

:

comfortable and glowing, warm and familiar, naked and buff au-natural



Cookie Dough

: warm molten chocolate tinged with caramel undertones - just remember not to *eat* it!



Bubble Bath

:

iridescent multi-colored wet bubbles rolling through warm water...bright french vanilla kissed with multi-colored blue and green iridescence.

Here are my swatches of
Making Love, Cookie Dough and Bubble Bath
.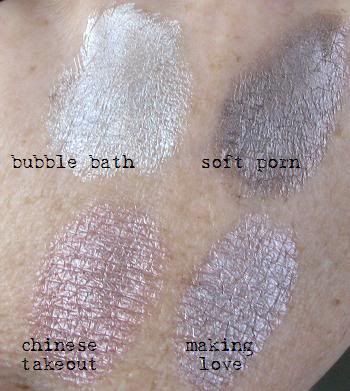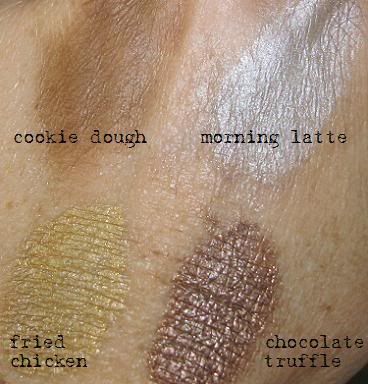 Making Love

(Meow) - lid

Cookie Dough

(Meow) - crease/outer v

Bubble Bath

(Meow) - highlight

Tip Taupe

Indelible Creme eyeshadow - under bottom lashes

Rose

Coquille (Aromaleigh) - dusted all around eye area to brighten

Frisky/Naughty Abyssinian

Pampered Puss Foundation (Meow)

Cat Lover

blush (Meow)

Clear

Ultra Resolution Finishing Powder (Aromaleigh)
Lippie is

Shortcake/Smitten

mixed (disc'd Aromaleigh)