I finally ordered my Halloween colors from Meow. I haven't had time to test them all out. Darn it - they're going away after tomorrow (they're 20% off from now through Saturday All Hallows Eve at Midnight) and I haven't decided which, if any, full sizes to buy. Surprisingly (okay, not so surprisingly
cuz
it's green), one of my free samples ended up being one of my favorite colors so, of course, I had to include it in my
FOTD
. I hope you're not getting sick of seeing in me in green. It's my new favorite color this year and I just can't get enough of it. Okay, enough yammering, here's what I did...
Eyes:
Aromaleigh

Shadow Base in Medium
Street Cat (Ideal Eyes)- entire lid. . .freebie sample!
Ghoul (Zombie) - outer corner
Bad Luck (Friday the 13

th

) - crease
Opal (Crystalline Cat) - highlight
Coffin (Halloween) - mixed with water and lined on upper/lower lash lines
Rest of face:
2y/2w

Aromaleigh

Glissade

mineral foundation
Top Cat Finishing Powder
Liaison (Lush Blush) - cheeks. . .this one was a freebie too!

Aromaleigh

Sweet Tart - lips
*All makeup in this look is Meow Cosmetics except where noted.
Color Descriptions:
Street Cat – Bright cat eye green
Ghoul – Olive with metallic undertones and green iridescence
Bad Luck – Golden toffee with orange iridescence twinged with warm russet undertones
Opal – Mysterious neutral whisper pink with quiet flashes of unexpected fire
Coffin - Copper shade with metallic umber undertones
Liaison - Cool pink with a hint of lilac
Sweet Tart - Soft warm mauve pearl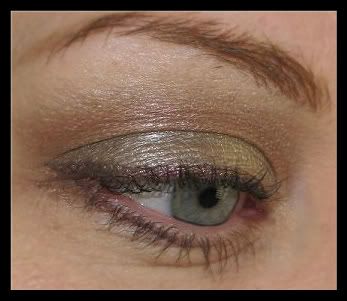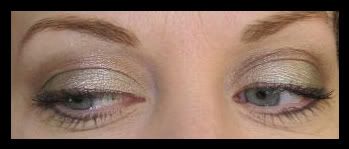 No retouching on this photo - can you say "Meow Top Cat Finishing Powder is awesome!"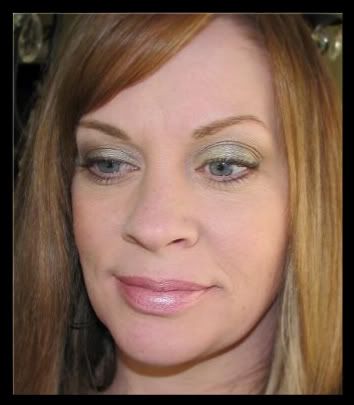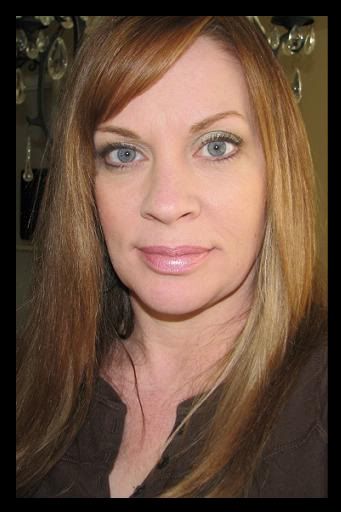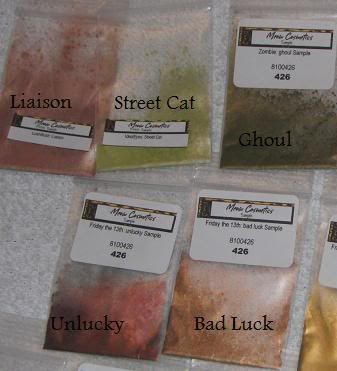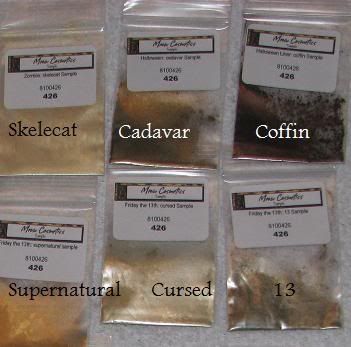 So tell me quick, what Meow Halloween colors did you snap up this year?