For those of you who have never been to my home, I wanted to share some pictures of my breakfast room (it's also our lunch and dinner room) with you. More home/garden pics to follow in the future.
I purchased this table and chairs from an unfinished furniture store and stained/finished them myself.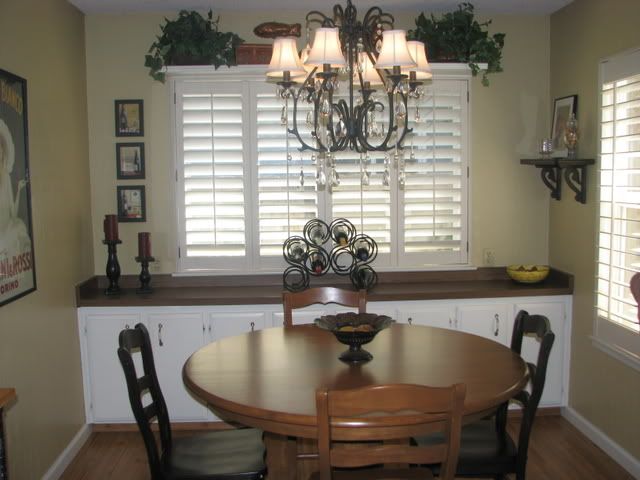 I love this chandelier. It's "Celeste" from Pottery Barn. It has just the right amount of curly iron (which I love) and just the right amount of sparkle (yeah, I love that too).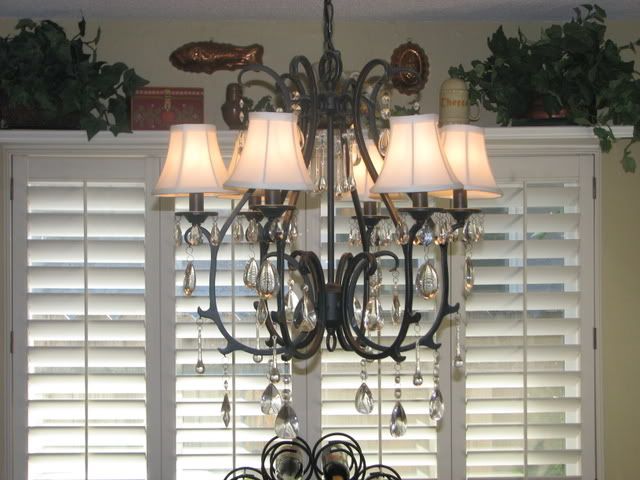 I built and installed this shelf above the window myself so I could display some of my vintage (and not-so-vintage) collectibles.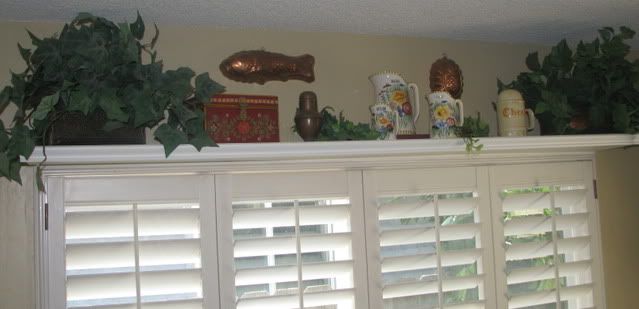 I saw this print in an "open house" my mom and I went to. I just had to have it so I bought one at art.com.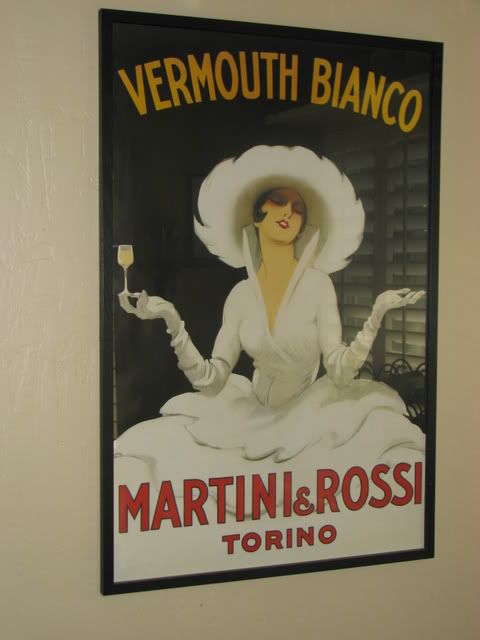 Lovely little metal compote. The apples are real.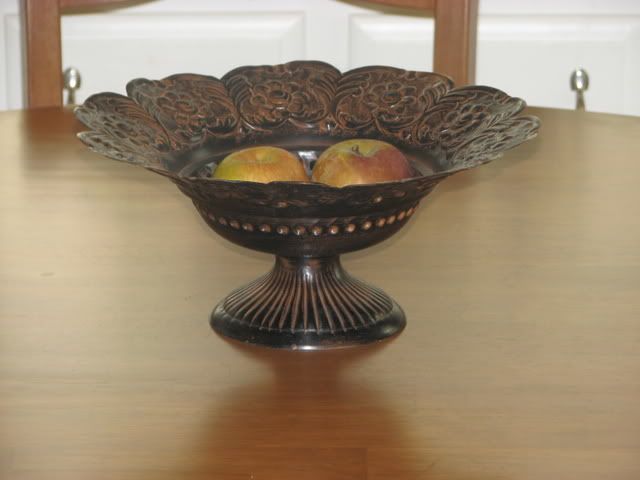 Cute tin french chocolate sign. Did I mention I love dark chocolate?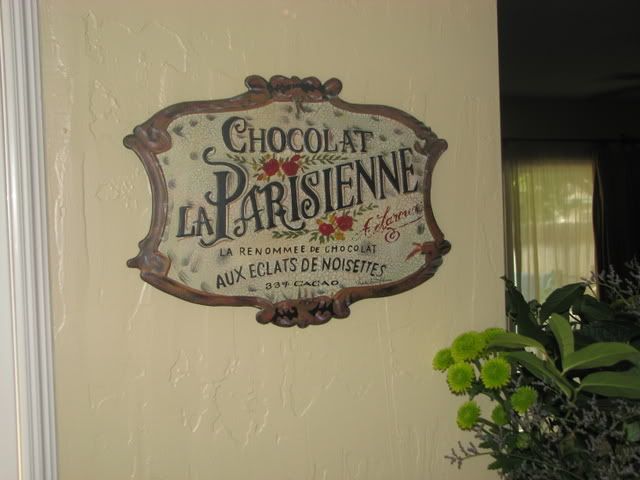 A little vignette on my wall. A french chocolate milk poster, an apothecary jar to hold the corks of wines I like (see how full it is?), and some family heirloom glasses with the initial B (for our last name) engraved on them. This shelf used to be a honeyed pine color but I stained it dark to match some of the other woods in our house.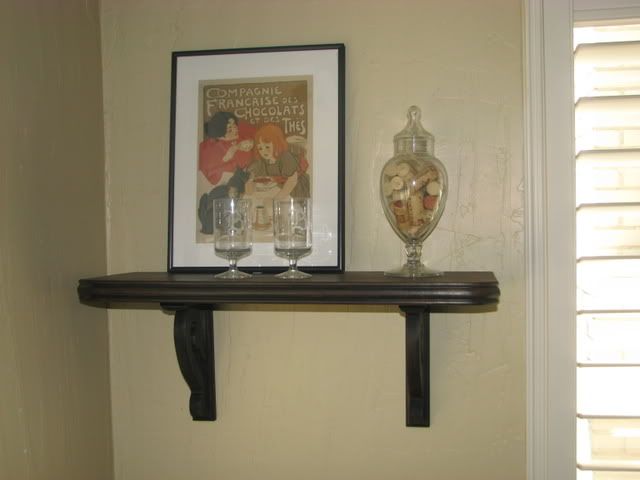 My functional butcher block cart. Not pretty, but it serves a purpose. Can't wait til next year when we renovate our kitchen. Bye bye cart. Hello stainless steel refrigerator recessed into garage wall (more on that later).
This shows the area in which my cart is located (just to the left of the dining table). 1966 houses did not come with cute 6-panel doors. But a scrolly (did I just make up a new word?) piece of black iron dresses it up a bit. And no, we don't have a pet. We inherited the doggy door when we bought the house.
This is what's on top of my microwave. My attempt to make it not such an eyesore. I love the white iron fleur-de-lis. I have two similar ones scattered throughout the house.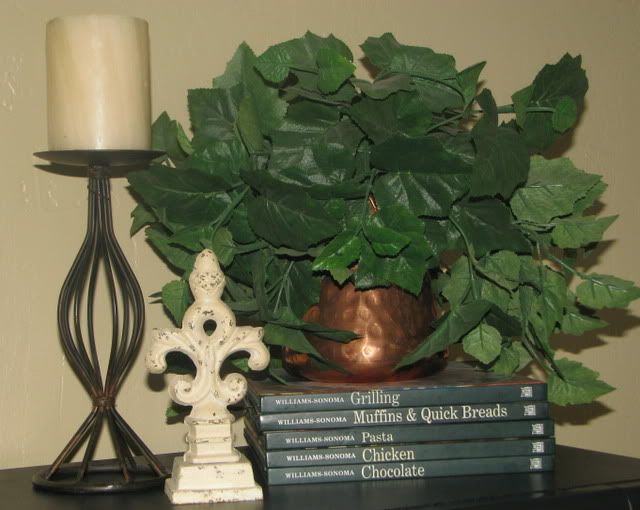 French wine prints and candles.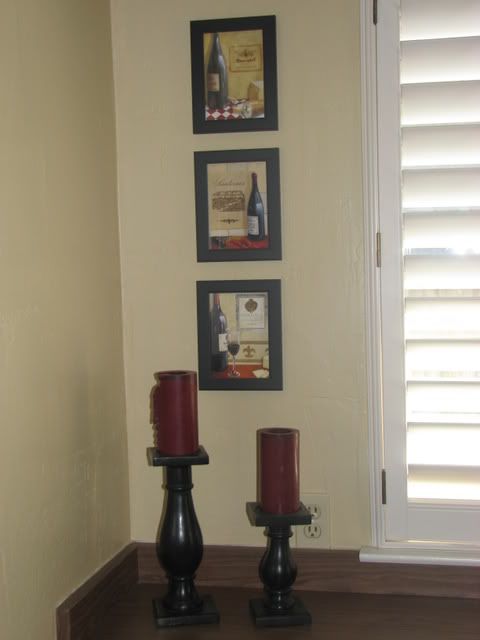 I found this lovely ceramic vase at Home Goods the other day. I couldn't wait to use it so I went out the next day and bought myself some flowers to fill it. This is five days later and the three pink roses and three white daisies that were in the arrangement already faded so I plucked them out. The rest of the arrangement (including my favorite flower - the hydrangea) is still going strong
.