Hi everyone!
It's been quite some time since I've done a FOTD (face of the day) post. I just went and checked through my old posts and found that I haven't done one since May. Not that there haven't been any cosmetics out there worthy of wearing and showing, but rather I really don't wear as much eyeshadow during the summer months since it gets so hot here (in September alone we had 29 days that were 90 degrees or hotter with 6 of those being 100+) and everything kind of slides off anyway.
So even though it was 100 today, I had a cold and pretty much felt
bleh
for the past week, so I decided to break out some colors I haven't used before and experiment a little since I'm finally feeling like my old self again. For this look, all the eyeshadows are from Aromaleigh's
Moulin Rouge
limited edition eye collection (check out the Aromaleigh color chart below to view all the shades in this collection). They were samples I had purchased a while back when the collection first came out but I just never got around to using.
MY THOUGHTS ON MOULIN ROUGE:
The biggest surprise was
Flutter.
The surprise about it wasn't the color (which I do like a lot) but rather the finish. It was the first color I applied in this look and as my eyeshadow-filled brush touched my lid, I immediately thought "Wow, this shadow feels so luxurious." It wasn't thin or wimpy. Not that I thought it would be it's just that it was more plush and cushy feeling than I anticipated and had a sumptuous satin finish. Just what I want from an eyeshadow. The sparkles weren't overwhelming as with some shadows that contain sparkles, sparks or glitter, which was nice since I'm not a sparkly eyeshadow kinda gal.
Ruffle
also had a nice satiny feel/finish but the sparkles were just slightly more apparent for my liking at first glance. However, when I blended the color (from brows to crease) the sparkles were imperceptible.
Ma Cherie
and
Tantalize
(both more matte than Flutter and Ruffle) were the only darker colors I have from this collection so I used them for my crease and outer corner. Both shades are warmer/pinker than I usually like (I always think these types of colors make my eyes look sore) but I think they look pretty in this look nevertheless. Sometimes it's nice to break out of your comfort zone and try something new. I'm glad I did in this case.
I used
Belle
in such a minuscule amount to highlight just under my brow and in the inner corner that I don't really have any thoughts one way or another on it.
The liner I used on my upper lash line is Revlon matte eye shadow in Rich Sable. I add a few drops of water to the pan and apply it wet with a brush just like old fashioned cake eyeliner.


Color descriptions from the Aromaleigh web site:
Flutter- A paled lustrous grey-green (or green-grey?) sheen accented with brilliant green highlight sparkles.
Ruffle- A slightly sheer pale cream yellow with the slightest undertone of warm green shimmer and fine borealis highlight glimmer.
Ma chèrie- A softly sheer plush luster in a midtoned cocoa rosy buff, highlighted with fine shimmers of green and blue.
Tantalize- A perfect warm brown, softly lustrous plush finish with surprisingly vivid sapphire and gleaming citrine sparks.
Belle- She's the palest grey lilac lustrous frost sheen accented with vivid sparkles of lilac.
Here's me with my new shorter bangs wearing my favorite maxi dress (Nicole Miller).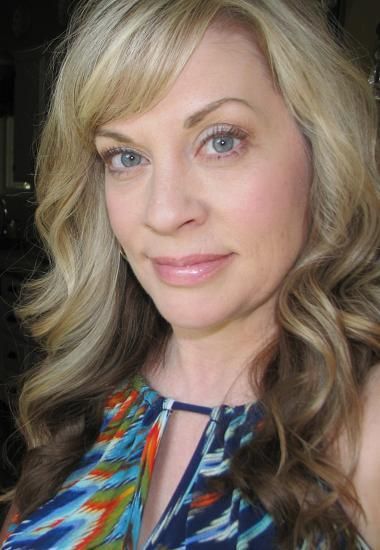 Please come back and visit soon.
If you enjoyed this post, I hope you will leave me a comment.

*All opinions expressed in product reviews are my own and can't be bought. I do not work for any of the companies whose products I review. In some instances, products are provided to me free of charge for purposes of testing in order to provide an honest and unbiased review.