The first weekend in August was my husband Jason's annual Trader Joe's regional company party. Our region (Northern Cal) holds its party every year in Sacramento, California. Trader Joe's is very generous and provides a lovely hotel room for guests driving 30 or more miles to the event. Although it's very hot this time of year, which isn't conducive to sight-seeing around our state's capital, it is a nice way to celebrate our 18th wedding anniversary (which was August 13) for free. Attendance isn't mandatory and we actually haven't been to the party since 2009. They have hosted the party at the same venue for the past 3 years, so we didn't really have the desire to spend the extra $$$ on the gas it takes to drive 3 hours if it wasn't something we haven't done before. Well now that enough time has passed, it
felt
new to us even though it wasn't and we were definitely ready for a free night of fun on Trader Joe's.
I won't bore you with
too
many pictures of the hotel but you can check out
my previous post from 2009
if you're interested in seeing more. It is quite luxurious.
We were lucky enough to get a corner room this time with fabulous views in two directions. This is the view standing by the window looking back at the little entry way and the front door. I love that there is a full length mirror at the very end.
Standing at the door. Bathroom is on the left, main room on the right.
Since it is a corner room, there is an angled wall with the desk and swivel t.v. on it. Great use of space.
I love having an excuse to get all dressed up. My everyday life just isn't this glamorous (click on the photo to zoom on the detail of the dress--it's metallic crochet).

All of my makeup (except lipstick) is
Aromaleigh
.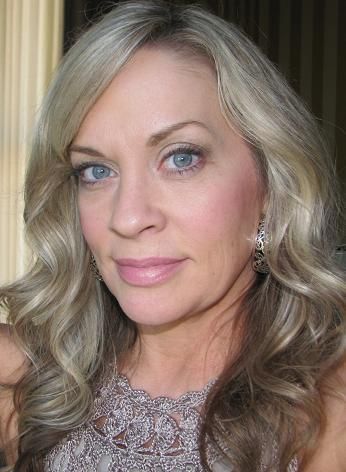 The one time a year (in this case three years) that Jason wears a suit.

To show their appreciation for their managers' hard work, they host a cocktail/
hors d'oeuvres
hour prior to dinner, which includes free wine and beer (yay for free wine!). The dinner is always elegant and delicious. What's that you say? You want to see pics of our food? I knew it. Here you go. . .
Just kidding.
And after dinner, if you're up for it, there is LOTS of dancing. Sorry no pics of me boogie-ing down. Mama gets a little crazy on the dance floor and I have a reputation to uphold (lol).
Lucky us, the party is held in the hotel that our room is in so we can drag our tired butts right to bed without having to hail a cab in the wee hours.
And just a few more pics before I go. . .
I'm sharing my post at
Not Dead Yet Style's
:
Dress: I.N.C. Metallic Crochet (look Ma, no spanx!)
Please come back and visit soon.
If you enjoyed this post, I hope you will leave me a comment and let me know.