Hi Nesters,
Back in February I discovered a "new to me" thrift store and got a great deal on this mirror. The store owner was asking $15 and I bargained with him and got it for $8. All along, I knew exactly what I would use it for but it took me a couple of months to get around to the project.
Here's what I did. . .
1) Wiped down the entire thing with a wet rag and taped off the mirror.
2) Spray painted the wood frame semi-gloss black two coats. I didn't let it dry a lot in between coats though. Just a couple of minutes. I wasn't looking for a perfect finish since I knew I was just going to scratch and scuff it up anyway.
3) After letting it try about 30 minutes, I took varying grades of sandpaper to it to highlight some of the detail and give it a timeworn feel. Then I dulled the entire finish with 0000 steel wool. I didn't want a shiny finish but since I only had semi-gloss paint on hand, I had to improvise. Steel wool gave it the satin/matte finish I was looking for. I used a clean dry paint brush to dust off the sanding particles.
4) Then I opened up an almost empty can of water based dark walnut stain and wiped it all over the frame. With no waiting time, I wiped it off again. The stain stayed in some of the nooks and crannies and darkened some of the sanded areas.
5) I sprayed a paper towel with Scott's Liquid Gold furniture polish, wiped the entire frame down, removed all the tape and newspaper, and hung it in my dining room.
I think this was one of the fastest makeovers I've ever done. Not bad for someone who's been nursing a cold for the past five days. I'm just so sick of being sick, I think I needed something creative to do to pull me out of my funk. I especially love how the mirror brings in the light from the window across from it. When Jason got home from work today, he noticed it immediately and he really loves it. Yay! (not like I was going to take it down if he didn't though, but it's always nice when he likes my projects).
Mirror in its found state (minus the tape).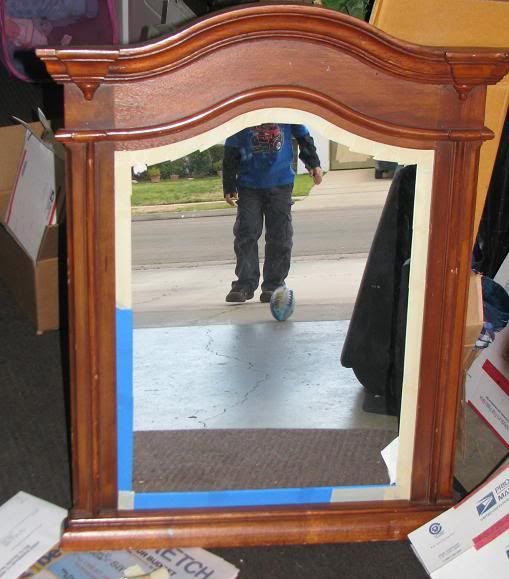 I love the detail.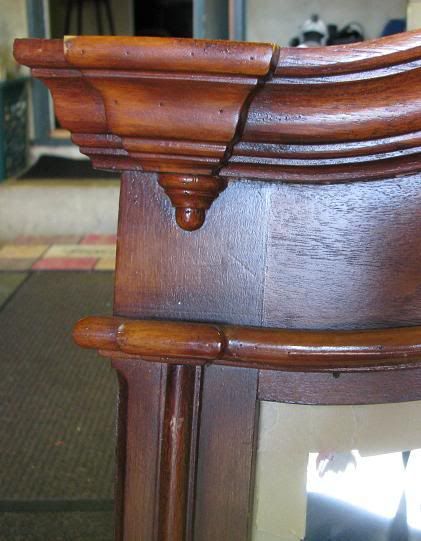 Semi-gloss black spray paint.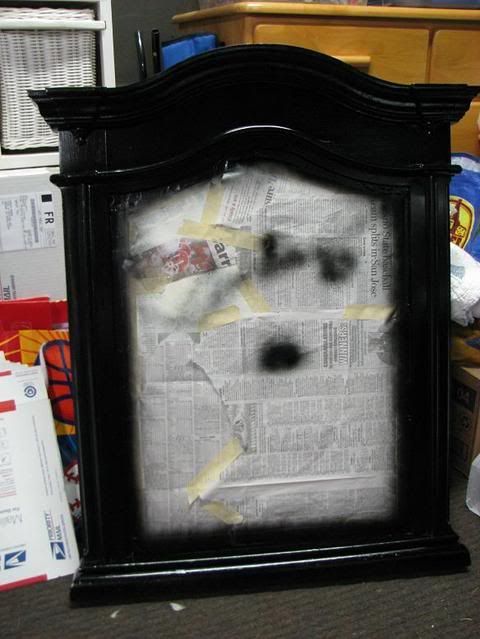 The dining room wall used to look like this: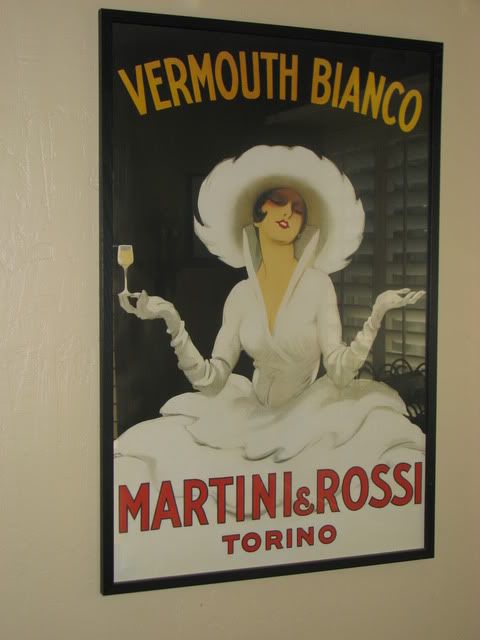 And now with the addition of fork and spoon wood prints I got on sale from World Market, it looks like this:
My Mother's Day flowers from Jason are the perfect accessory for this room.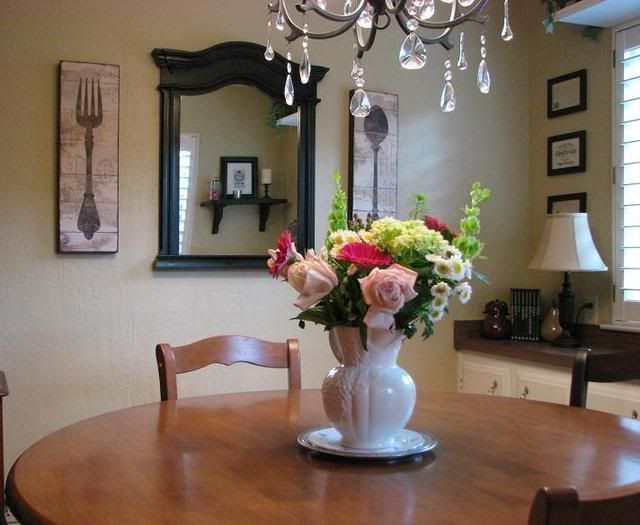 Here are a few more things I've changed around in the dining room recently:
This vignette. . .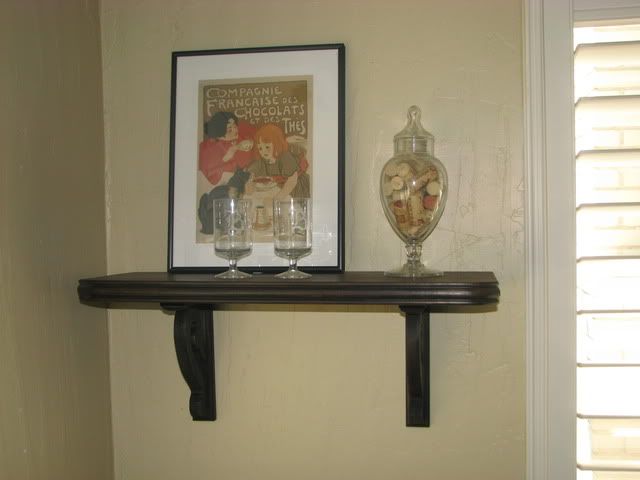 Became this. . .
(French chocolate print downloaded for FREE at
The Graphics Fairy
)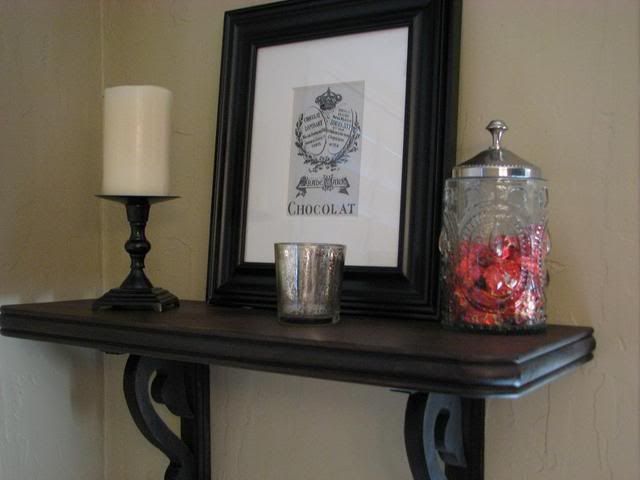 And this. . .
Became this. . .
(French postcards, letters and labels downloaded for free at
The Graphics Fairy
)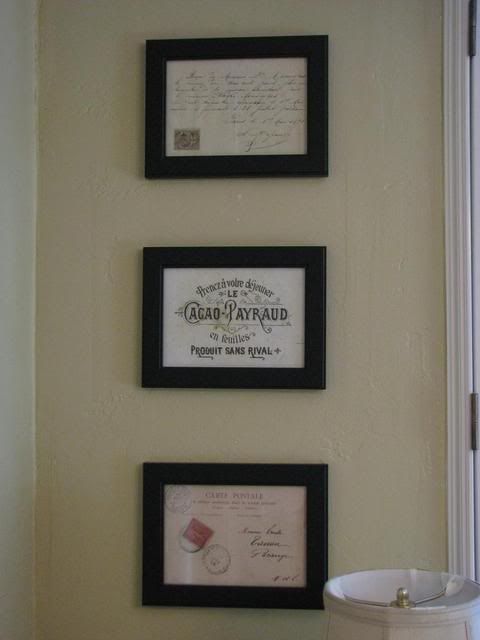 I shopped my house and garage for accessories, moved a few more things around and this dining room "before". . .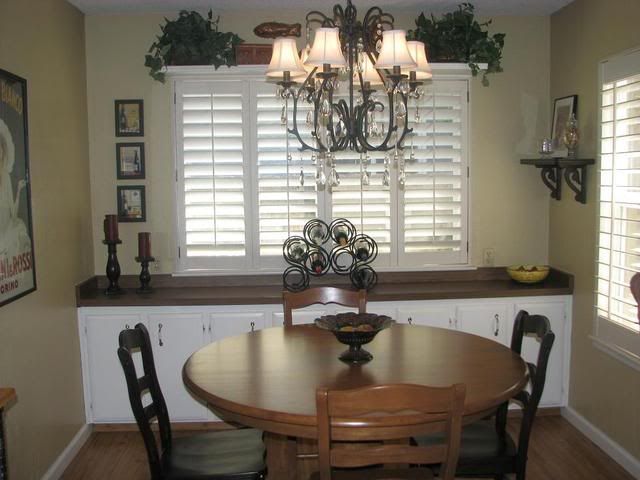 Became the new dining room "after."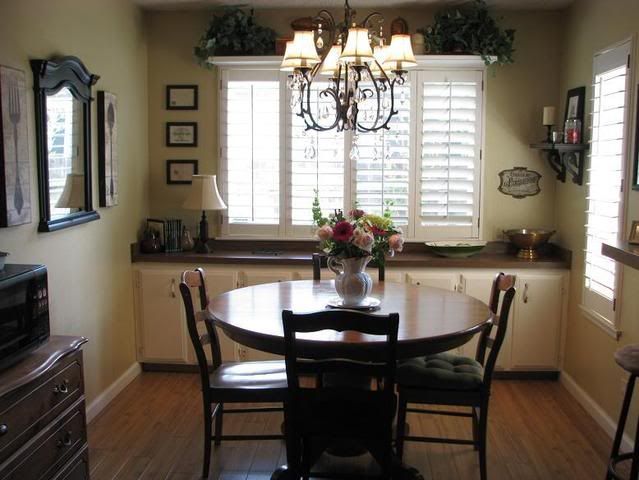 Shared this project at Dumpter Diva's Cute & Creative linky party!
Come back and visit soon.
If you like my blog, please consider following me!