Hi Nesters,
Here is my first look using Meow's holiday collection "Holiday Wishes." In this look, I also used a blush from their holiday collection "Sugarplums," as well as a glow powder from yet another holiday collection "Ghost Stories." Click
here
to check out all of Meow's beautiful limited edition holiday collections (there are quite a few).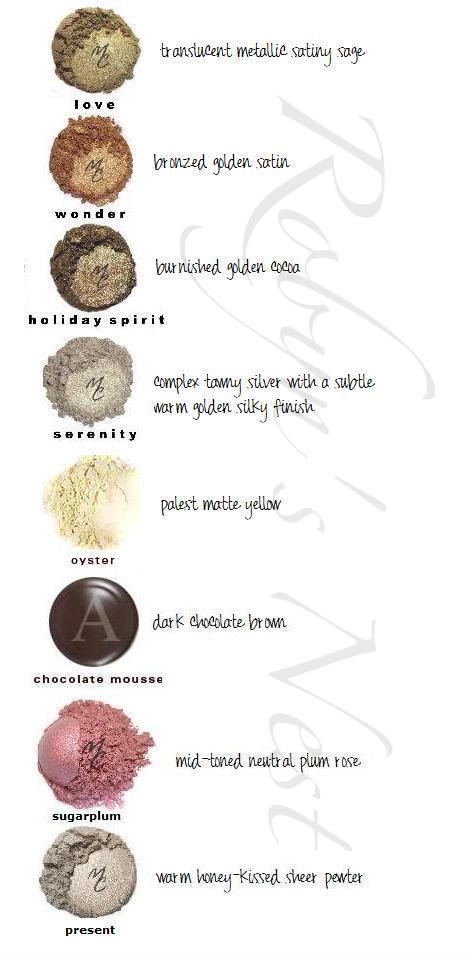 1. Prior to beginning my eyeshadow application, I apply my moisturizing sunscreen and let it soak in. Then I apply my mineral foundation. After that, I start off all of my eyeshadow looks with a very light application of Aromaleigh's shadow base in medium. A little of this base goes a very long way so (like with most shadow primers). All you have to do is lightly pat-pat-pat your ring finger into the container a few times and then lightly pat-pat-pat again all over your eyelid from lashes to brows. This step is a must for applying loose mineral powder shadows so they will stick to your skin well and last all day.

2. Apply
Love
to inner to inner corner of lid overlapping into the center 1/3 of the lid. I used Target's large shadow brush for this step.
3. Apply Wonder to center of lid in a patting motion slightly overlapping into the outer 1/3 of the lid. I used Target's large shadow brush for this step.
4. Apply
Holiday Spirit
to outer corner using a patting motion (I used Target's small shadow brush). Then sweep it into the crease using a back and forth motion making the shape of a filled in "v." If you hear people talking about the "outer v," this is what they are referring to. I used a pointed silk fiber brush for this step.
6. Apply
Oyster
underneath brows and in the inner corner area to soften all of the edges. I used a crease/shader brush from ecoTools for this step.
7. Apply Chocolate Mousse gel liner to top and bottom lash lines. I used Target's smudger brush so my line would be soft. You can use a thin liner brush if you want a more defined look.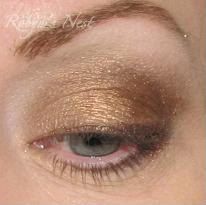 8. Here I applied a soft black pencil to my waterline, mascara and brow powder to complete the look.
I used Meow's
Sugarplum
blush on my cheeks and
Present
glow powder on my cheekbones.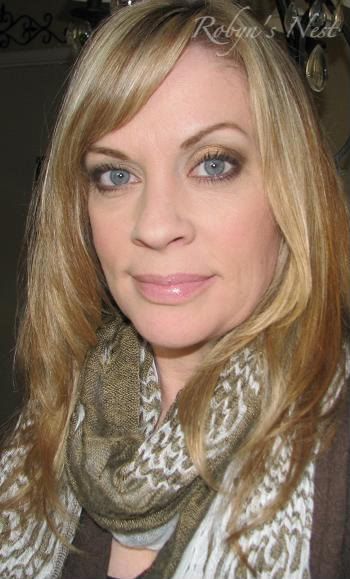 My outfit of the day: heathered brown wrap sweater, boot cut jeans and a scarf.

*Samples of Meow's holiday collections were gifted to me for objective review purposes.