Hi Nesters!
Heather of Heatheresque and Eye Couture Cosmetics, and also the owner of the now defunct online cosmetics company About Face Cosmetics (aka The She Space), has posted some of her About Face backstock on her Eye Couture web site. Here's what Miss Heather says about it:


"Well, if you didn't think I was crazy before, then this email will surely put you over the edge....but a girl's got to do, what a girl's got to do in order to find homes for eye colors! LOL!! So, when you have a second.....either visit our message board or click on this link

http://www.eyecouturecosmetics.com/aboutfaceclearance.html

to learn about how you can get former About Face eye colors for just $1.50. Yes....I keep trying to get them into new homes, but the insanity never seems to end, so for those who didn't love the grab-bag idea, this is a last ditched effort....just for you! I hope that this finally gives you the opportunity to get what you might have missed out on.....and gives me a little peace of mind in knowing that ALL of the colors are finally gone! LOL!!!"
They are being sold in baggies that contain the same amount of product you would find in a 5 gram jar. And for only $1.50! Up on the site, is a photo chart of the colors she is offering right now (all her available neutrals) but there are no hand swatches or color descriptions. I went through my old stash of samples and found a few colors that I really liked but never bought full sizes of. I couldn't pass up this great offer so I placed an order for full sizes of these five colors today.
One of the lovely ladies on the Heatheresque
forum
posted a document containing color descriptions for many of the former About Face/TSS eye shadows to help everyone in their selection process. Although she didn't have descriptions for all of the colors I have. Fortunately, I had written them on my sample baggies.
Here are my hand swatches and descriptions:

Touched by Truth: Twinkling golden taupe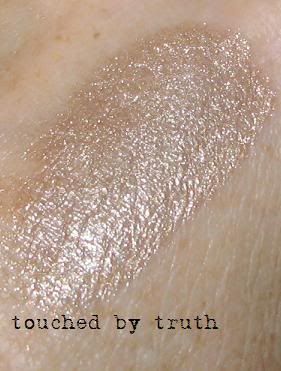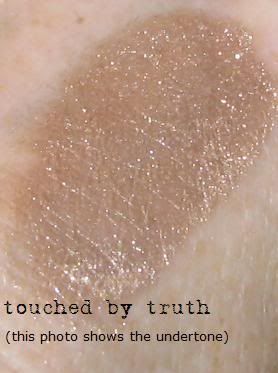 Ecstasy Unleashed: Nude corn yellow (from the Velvets collection)
Honey's a Heartbreaker: Softest cinnamon (from the Velvets collection)
Ruled by Memories: Cocoa-berry plum
♥ ♥ ♥ ♥ ♥ ♥ ♥ ♥ ♥ ♥ ♥ ♥ ♥ ♥ ♥ ♥ ♥ ♥ ♥ ♥ ♥ ♥ ♥ ♥ ♥ ♥ ♥ ♥ ♥ ♥ ♥ ♥ ♥ ♥ ♥ ♥ ♥ ♥ ♥ ♥ ♥ ♥ ♥