After being blonde for 20-something years (with short periods of red and brown in between), I decided to go back to brunette last October. After four months of it, I decided I was ready for a change. Thank you to everyone for your input on my blog poll about what hair color you thought I looked best in. I took your feelings (as well of those of my husband and children) into consideration when making my decision. See the results below...but first, here's what I did on my eyes today. The first set of photos is when I was brunette this morning and the second set is after I had my hair done.
(1) I did simple eyes today. I really wanted to show off my new favorite neutral color. It's "
Natural Beauty
." I applied it on my lids and crease and highlighted with a discontinued limited edition color, Cashmere Mittens on the inner 1/3 of my lid and brow bone. I used Marcasite gel liner on my upper and lower lash lines.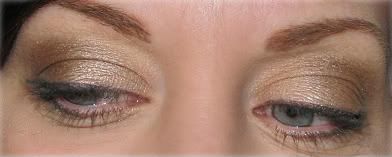 (2) For my second look of the day, I used "
Soul
" on my lid and crease. I highlighted my brow bone and blended out the inner corner with Moondance (my favorite highlight shade). I used Chocolate Mousse gel liner on my upper and lower lash lines. If you've never tried Moondance, you should. There's nothing else like it. Photos never due this color the justice it deserves.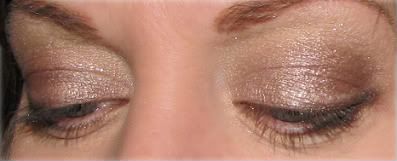 Now on to the hair color before/after...
Before: I took this first photo this morning before I left for the salon. By this time, the color had faded quite a bit since I colored it in early January. At this point (if I were to stay brunette), I would have colored it again already to it's normally deeper shade of brown (see last brunette photo), but I wanted to have as much of the color washed out as possible before my appointment. The other two photos were taken within the past week. I just added them for comparison since the lighting was a bit different in each.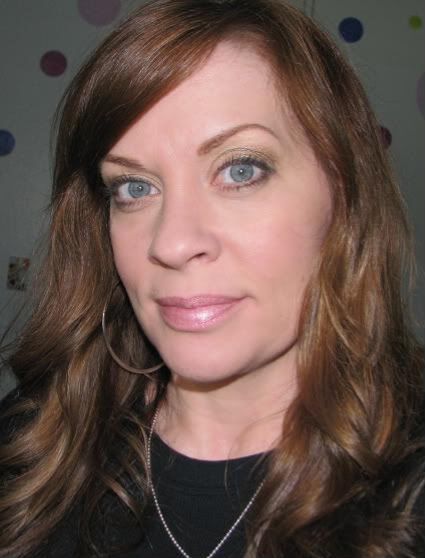 After: These photos were taken after I came home and rewashed/styled my hair after my appointment (I never really like the way my hair turns out when they blow it out in the salon). Due to the lighting conditions I was forced to work with, my hair turned out a bit darker in these photos than in real life. C'est la vie. Check out the details of my color below the photos.
So here are the photos...
In this photo, you can see the darker hair peaking out underneath.
Since I hadn't had a haircut in the four months I was coloring my hair myself, my ends were quite sad and tattered. I asked her to cut the length off to a point where it would be healthy and to raise my layers up as well. She took about 2 1/2 inches off the bottom and the same off my layers. It looks even shorter when it's curled, but I still love it. No amount of long dead hair looks as good as healthy hair.
Details: I had my stylist put in "partial" highlights (draw an imaginary line from ear to ear across the top of your head and this is the area she highlighted) using bleach only--no color. By doing a partial highlight, it leaves about 3/4 of the hair in the back with my natural brown hair and just the top layer over it is highlighted (too wordy--bad grammar?). This is the same effect I had when my hair was very blonde. I prefer this look over having my entire head with streaky highlights. In real life, the underneath portion of my hair would never see the light of day so highlights there would just be unnatural looking. On a related note, my husband and I both noticed that my skin looks much warmer with my new hair color. I wore the exact same foundation in all of the before/after photos but I look considerably more pale with darker hair. I also look a bit pale in the photo with my very very blonde hair. I think I found a happy medium.
And just a reminder of what my hair looked like before I went brunette: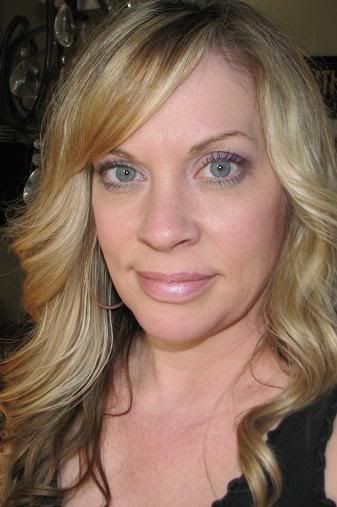 Thank you so much for going through my hair color journey with me.