I'm really enjoying the eye shadows from The She Space. Of the colors I've tried, the quality is very nice and they really last. The textures are great as well. I'm particularly fond of their "The Velvets" collection. Here is the description from their web site:
"Some days you just do not any sparkle or twinkle, so our entire collection of Velvet Pigments is just what the Doctor ordered. All of the pigments listed below have a texture that is more like a velvet finish (hence the name) and have no sparkle. Please keep in mind that these are not MATTE shades, they just tend to look more like a smoothe velour or velvet fabric when you apply them. However....they do beg to be layered next to any of our more twinkly colors, so knock yourself out and don't hesitate to mix and match to your hearts' content!!!"
Here's the eye shadow (all by The She Space) I used for this look:
stopping traffic

(The Velvets): Sheerest butter yellow

lesli in leather

(April Ltd Ed): Crystal rose w/ blue & violet glow

love that lynne

(April Ltd Ed): Sheer cocoa taupe w/ halo of pink

kiss of reality

(May Ltd Ed): Soft buttery gold
And here's where I used them:
stopping traffic - inner 1/3 of lid
lesli in leather - outer 2/3 of lid
love that lynne - crease/outer v
kiss of reality - brow bone highlight
Other makeup in this look:
Aromaleigh voile mineral foundation (I used a mix of 2y/2yl/2w and 3y) - all over
Aromaleigh gothic lolita rouge in Rococo - cheeks
Aromaleigh gothic lolita lip color creme in Shortcake - lips
Aromaleigh gel liner in Black Out - upper lash line
Max Factor 2000 calorie waterproof mascara - upper lashes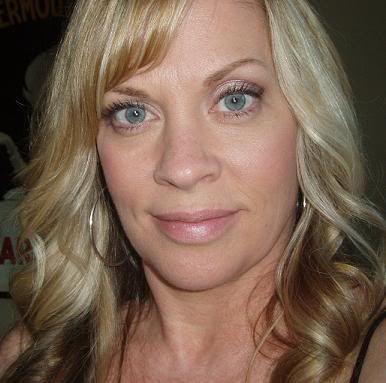 *I appear darker than normal in these photos because I'm using a sunless tanner.