Hi Nesters!
This is my first experience with e.l.f. (eyes lips face) cosmetics. I heard about them on a beauty forum and discovered that they are very affordable and can be found in some local drug stores as well as online.
At just $3 for an entire 6-color palette, I couldn't resist giving e.l.f. a try. Being a neutral loving lady, I grabbed the Neutral palette. It contains 6 eye shadows and 1 brush. Each eye shadow measures 3/4" x 3/4". That's pretty standard for palettized eye shadows. In my opinion, the brush that comes with the palette is pretty useless for applying eye shadow; however, it's fabulous as a brow powder brush or for applying the darker eye shadows wet as liner. The palette even has a little mirror for on-the-go touch ups. But you probably won't need it. These shadows are very pigmented and last all day. I used Aromaleigh's shadow primer before applying the eyeshadows and my look lasted all day without creasing until it was time to remove it for bed.
Using my numbered palette photo as a guide, here is how I see each shadow:
#1
is a frosty winter white that reminds me of pixie dust or snowflakes. It is not opaque so this one would be best used as a sparkly accent. You could also carefully dip a powder brush into this color and apply it as a body shimmer for the holidays.
#2
is a sheer shimmery sparkly gold. Another great accent color. Would make a nice body shimmer just like #1.
#3
is a very opaque shimmery (no glitter) coppery/bronze brown. Great lid or crease color.
#4
is an opaque shimmery (no glitter) platinum (if gold and silver had a baby, this is what it would look like). Very sophisticated and a fabulous lid color or a nice highlighter for darker skin tones.
#5
is an opaque shimmery (no glitter) warm tan. This is my favorite color in the palette. It is one of those colors that can stand alone as a combination lid/crease color for those days when you're in a hurry. I'll have to investigate e.l.f.'s product line further to see if I can get this color as a single since I can see it getting the most use in my palette.
#6
is an opaque shimmer (no glitter) dark bark brown with a warm highlight. Great as an outer corner color, crease color or use wet as a liner.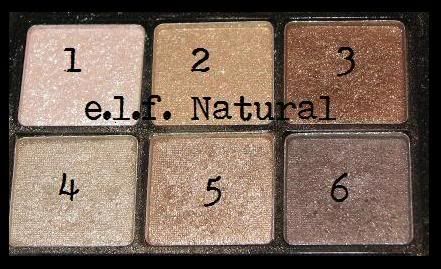 Go get your e.l.f. palette here: Black Friday Deal! Buy 1 get 1 50% off plus free shipping on orders of $30 or more! Use Code BCGBOGO50 11/25-11/27.