Hi
Nesters
!
Today's look consists of some must have neutrals from Meow Cosmetics. These colors are neither too warm nor too cool (as Goldilocks would say...they're juuust right), so lots of ladies can wear them. The scarlet/wine-colored Kamikaze liner provides a little more interest to this look than just your basic brown or black.
Meow has a 20% off coupon code promotion going until July 5th midnight EST. Just enter FIREWORKS at checkout.

Color descriptions:
You had me at Meow

(Ideal Eyes/stock collection): Frosty taupe with vintage gold shimmer



Spider Monkey

(Lost

Rainforest

LE): Warm bronzed golden brown with copper and golden iridescent sheen



Kamikaze

(

Feliners

/stock collection: Rich deep scarlet wine



Soka

blush (Caribbean Escape LE): Bright clear true coral-salmon shade fused with pure peach & bubble gum pink


I'm also trying out new foundations since
Aromaleigh
will be closing in the next week or so (sniff sniff). Here I'm wearing Frisky Manx with a touch of Naughty Manx mixed in. I think it's a little too dark for me. But when I first applied the Frisky by itself, it appeared too light so I added a little of the Naughty to darken it. I think I'll try Frisky Manx by itself tomorrow and let it mesh/meld with my skin for a bit before I make any adjustments to it.

*Lost

Rainforest

and Caribbean Escape are limited edition collections which are available now.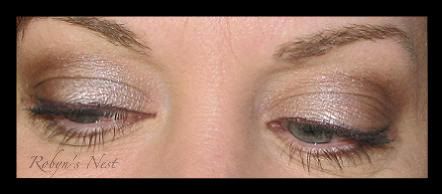 Thanks for looking!



Robyn